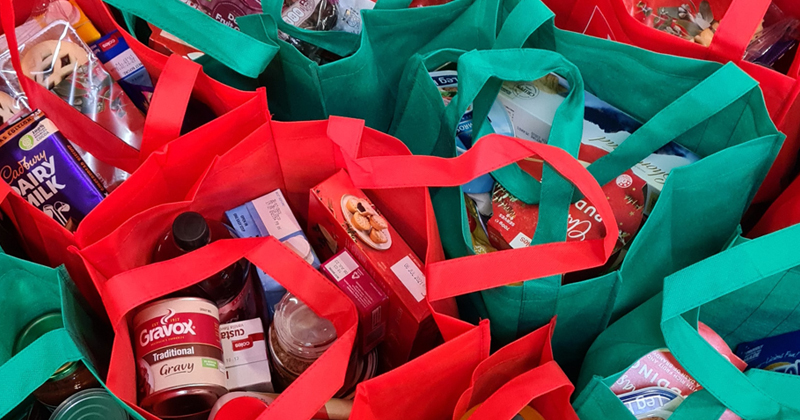 AHEC West 
Access Allegany – AHEC West and Associated Charities partner to focus on the health and wellness of individuals in our community living in financial strain with household incomes at or below 250% federal poverty level. These are vulnerable individuals living with chronic diseases who do not have access to healthcare services, both medical and dental. The overarching goal of the Access Allegany program is to prevent further financial instability by providing access to no-cost or affordable dental care and chronic disease prevention education.
Access Mineral – The program above is also available to help Mineral County residents.
Associated Charities
Health + Housing = Community Sustainability- Associated Charities partners with Allegany County Department of Social Services, UPMC – Western Maryland, Pharma Care Pharmacies, Allegany County Health Department, The Western Maryland Food Bank, AHEC West, Allegany County HRDC's Office of Home Energy and Homeless Services Program, and the Allegany County Board on Homelessness to provide the residents of Allegany County temporary assistance to prevent evictions, cessation of utilities, provides food and other basic needs. Housing subsidies in the form of the first month and assistance with delinquent rent to those who qualify. Included in the program is a short term emergency prescription program that provides life-saving emergency medications to the low income, uninsured and underinsured residents of Allegany County by providing clients at least 30 days of life saving medications to those who cannot afford them and also a long term prescription medications program that provides life-saving medications for Allegany County residents who meet the financial guidelines, have inadequate prescription coverage and cannot obtain the medications through an entitlement program. The program provides clients with a monthly supply of medication for up to a year and longer if a need is identified.
AYEPS (Allegany Youth Enrichment Program Services)
Youth Center – The AYEPS youth center's main goal is to offer the community a safe place for children. Once the center is open, it will offer a variety of meaningful programs for children during non-school hours. Summer hours will be dependent on the community's response. Mentoring will also play a big part in the program at AYEPS.
Catholic Charities of West Virginia
Housing Stabilization Program – The housing stabilization program in Romney will help families in crisis maintain safe and stable housing while also developing a plan to mitigate future emergencies. Currently, the Romney office provides emergency assistance to low-income families. Services are provided on proof of need, such as an electric termination notice, an eviction notice, documentation of a doctor's appointment, etc. If the criteria are met and Catholic Charities has not spent its weekly budget, a pledge is made on behalf of the client. Catholic Charities always pays the vendor, not the client.
Housing Stabilization Program – This program is duplicated in Mineral County.
Family Crisis Resource Center
Prevention and Healing for Adolescents Program (PHAP) – The Prevention and Healing for Adolescents Program (PHAP) will expand prevention workshops to include children in Asset Limited, Income Constrained, Employed (ALICE) homes on dating violence, sexual abuse, and sexual assault, as well as trauma-informed counseling for adolescent survivors of these crimes. Family Crisis Resource Center employees will provide PHAP services in local public schools. FCRC counselors and group facilitators will utilize trauma-informed techniques and prevention methods supported by the CDC, US Department of Health and Human Service's Substance Abuse and Mental Health Services Administration and the Center for Mind Body Medicine.
Garrett County Community Action
Garrett County Meals on Wheels – The program provides a crucial service to extremely vulnerable elderly members of our community who are homebound and at nutritional risk. The program provides over 39,000 meals, 39,000 well checks and 400+ in-home nurse assessments to over 200+ seniors.
Oakland Partner's After School –– Serves third through eighth-grade students from Broad Ford Elementary, Youth Glades Elementary, and Southern Middle School. The program meets at Southern Middle School five days a week from 3:20 until 6 p.m. throughout the school year. Transportation is provided by bus through the school system and the program serves the Southern school district of Garrett County.
Garrett County Mentors
Garrett Mentors – Provides Garrett County children in preschool through grade six with various needs with positive, caring, adult volunteers serving as lunchtime mentors at a school. Many children are referred due to lack of support at home or other difficult circumstances that provide a strong need for a positive, adult role model. Mentors and children meet together for weekly, one-on-one lunchtime sessions, which are tailored around the individual needs and personality of the child being served. The relationship shared by the mentor and child often reaches outside of school into other areas of the child's life as well. Garrett Mentors also provides several educational, fun and cultural out-of-school activities for the children in our program that they would not experience otherwise. These activities allow them to bond with their mentor in a different way.
Horizon Goodwill
Get Onboard! Job Readiness Training Program – Allegany County – This program offers participants the frameworks of the essential skills required to be successful both in their personal and professional lives serving as the starting point on the pathway to self-sufficiency. Get On Board's combination of easy to digest course material and nurturing instructors provide program participants with a safe place to learn and a quick "win" that boosts self-confidence. Therefore, increasing the likelihood of continued engagement in educational opportunities that will support both personal and professional growth. Goodwill partners with Allegany College of Maryland to facilitate the ACT Workkeys Program. This allows program participants to sharpen their applied math, graphic literacy, and reading comprehension skills, while at the same time earning the nationally recognized workforce Workkeys Certification. The combination of both hard and soft skill training aids helps program participants in developing a roadmap to success.
Get Onboard! Job Readiness Training Program – This program is duplicated in Garrett County
Piedmont Library
Community Education, Learning & Development and Summer Programs – The Piedmont Library meets the continuing needs of the Mineral County residents by providing free services on a day-to-day basis. They provide copy, fax, notary, computer access, and summer & holiday program for children, to name a few. Many adults depend on the library for free services unavailable anywhere else. They strive to provide the best programs for learning and fun for the children during the summer months to keep them active and wanting to continue to learn new things and meet new people. Learning and interaction will make them better people as a whole.
Pressley Ridge Maryland
Homebuilders® – Maryland has been in the throes of an opioid epidemic for much of the past decade. Homebuilders® is a well-established Evidence-Based Model that provides in-home intensive intervention to families at serious risk of having their children removed to foster care. A Homebuilder ® Team, consisting of an MSW therapist and a supervisor, will work with DSS referred high-risk families involved with the child protective services system. Program implementation and execution will include comprehensive service planning for children and their families and continual assessment and measurement of goal attainment. Caseloads are small (2 families per provider), with multiple scheduled meetings per week for a 28-day intervention period.
Homebuilders® -  This program is duplicated in Garrett County.
Slanesville Elementary School
Mustangs Achieve! – Funding provided will continue an after school tutoring program. The clear goal of the tutoring program is to increase academic achievement. However, with the right components, there can be far reaching results that can impact a student for a lifetime. Elementary tutoring of basic skills can develop a strong foundation skill base that better prepares students that are at risk to remain in school through graduation have better attendance, and find much more success in school and in the future. Students gain confidence with each successful goal they achieve. Students develop a meaningful, trusting relationship with a caring adult (the tutor) that values learning. The tutor is a mentor who encourages the student to keep trying, to do their best and succeed.
Tri-Towns After School Program
Tri-Towns After School Program – Provides mentoring, homework help, computers, crafts, school supplies and the extra help that their children need to succeed in school. This program provides a safe place for children to go after school, where they not only receive the things listed above but also a hot meal Monday through Thursday, September – May. Children also receive additional food during Spring, Thanksgiving and Summer breaks, gifts for their parents at Christmas time, clothing, if needed, hats, scarves, gloves and school supplies. More than 60 students participate in the program.
Union Rescue Mission
Homeless Meal Program – The Homeless Meal Program ensures food security for those in the most desperate need who find themselves in the Cumberland area. Hot meals are prepared and served from the kitchen seven days a week, three meals per day, with the exception of Sunday lunch. The Union Rescue kitchen is located in the heart of downtown Cumberland, providing convenient access to those who are walking to receive access to their services. Those served in the dining room include residents of the homeless shelter residential program, those utilizing the cold weather shelter and any other individual who is in need of food at meal time. Anyone in need of a meal is welcome to eat in the dining room.
Western Maryland Food Bank
Hunger and Health Outreach – This program consists of three parts – Urgent Aid – A program to distribute supplemental food to families and individuals (ALICE) identified by the WMFB or by their partners. Clients will receive a bag of groceries and a referral for them to get further assistance. Youth Health/Hygiene – Food and personal hygiene items will be distributed to youth in middle and high school, providing all the non-food items and supplement food. Food Distribution – The amount of food regularly distributed will be increased by 10%, focusing on areas where food needs are not being met.
YMCA – Gilchrist Center
Relatives as Parents (RAPP) – The Family Center, through its partnership with Allegany Social Services and the Kinship Navigator, has developed a program for families raising other relative's children. This is due to the opioid crisis in our community. The program provides educational presentations on financial, legal, school and custody issues, health concerns and parenting questions, individual and group case management support visits, social and recreational activities, and Parenting Again the Second Time Around – a six-week parenting curriculum. The YMCA will also offer free enrollment in swim lessons, exercise programs, sports programs and other activities to caregivers and children.